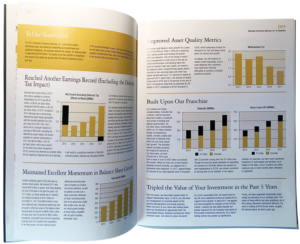 I am delighted to report that 2018 was another excellent year for your Bank. During that twelve-month span, we continued to execute on our strategic plan, while achieving robust managed growth, maintaining high asset quality and realizing a strong increase in earnings.
I am particularly pleased by some of our profitability metrics, most notably our return on average equity (ROAE) and our efficiency ratio. Both of these are among the best in the Bank's peer group. Achieving such figures, particularly during a year when we experienced impressive growth, is a testament to our team and the markets we serve. 
It's also worth noting that our strength and performance were recognized by several
outside organizations.
Here are a few more of our more remarkable accomplishments during 2018: 
Grew earnings to a record of more than $10 million—an increase of 86 percent
Expanded balance sheet growth—with assets, loans and deposits increasing by double digits
Adhered to sound underwriting principles, resulting in continuing improvement in asset quality
Elevated the Bank's presence and brand, boosting market share to seventh largest in Knoxville from eighth largest the prior year
Achieved high profitability metrics, with ROAE reaching 14.3 percent and efficiency ratio improving to 48.4 percent
Grew shareholder value, with a 13 percent increase in tangible book value per share
Received a superior five-star rating from BauerFinancial, Inc., indicating the Bank excelled in areas of capital adequacy, profitability and asset quality
The Company was included in the 2019 OTCQX® Best 50, an annual ranking of top-performing US and international companies traded on the OTCQX Best Market in 2018
As we progress further into 2019, I am especially grateful to all of our Mountain Commerce Bancorp, Inc. and Mountain Commerce Bank team members who made 2018 such an outstanding success. I applaud their efforts, and I extend my appreciation to our Board of Directors for their ongoing guidance and wisdom. 
We have challenged ourselves to stay focused in 2019, and we expect yet another year of high performance. 
Sincerely,


William E. Edwards III
President and Chief Executive Officer
You may download a PDF of the annual report here: MCB Bancorp, Inc. 2018 Annual Report