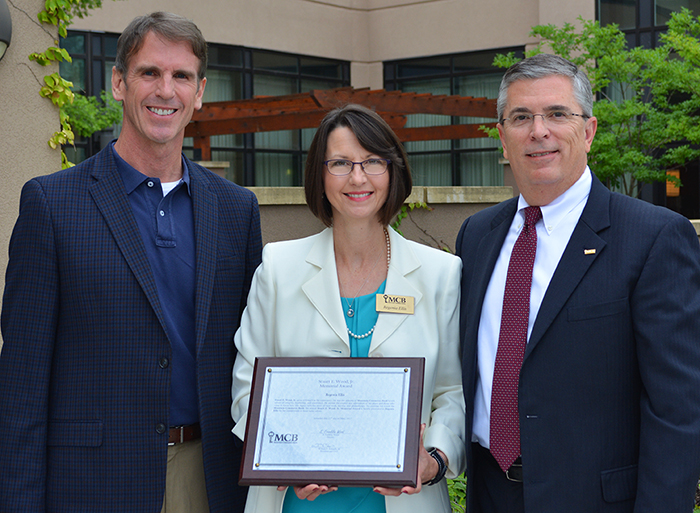 KNOXVILLE, TN — June 1, 2017 — The board of directors of Mountain Commerce Bank (OTCQX: MCBI) today announced that Regenia B. Ellis, the bank's vice president and corporate secretary, has been selected to receive the prestigious Stuart E. Wood Jr. Memorial Award in recognition of her commitment to the values of integrity, leadership and excellence.
The award is presented annually by the board to a Mountain Commerce Bank (MCB) employee who reflects the principles and standards exhibited by Wood, a prolific East Tennessee businessman and admired community leader who was chairman of MCB's board of directors until his unexpected passing.
Ellis was honored for her extraordinary ongoing efforts in support of the bank's mission of growth and prosperity as well as her work surrounding the bank's recent listing on a top tier marketplace for trading over-the-counter stocks.
"Regenia is the epitome of professionalism, and serves our bank, its parent company and both of their boards of directors with distinction every day," said William E. "Bill" Edwards III, MCB president and chief executive officer. "Her dedication, responsiveness and attention to detail, particularly during last year's extensive efforts to raise capital, were pivotal to a very successful outcome. No one deserves this accolade more."
In honor of Ellis' selection, a contribution will be made by the bank to the East Tennessee Chapter of the Alzheimer's Association in memory of Stuart E. Wood Jr. The donation is at the request of Wood's children, Meredith Wood Seeley Roberts and MCB board member Frank Wood.

About Mountain Commerce Bancorp, Inc. and Mountain Commerce Bank
Mountain Commerce Bancorp, Inc. (OTCQX: MCBI) is a bank holding company and the parent of Mountain Commerce Bank (MCB). Both are headquartered in Knoxville, Tennessee where MCB serves East Tennessee with five locations across Knox, Washington, and Unicoi counties.
MCB operates and competes with a team dedicated to Responsive Relationship Banking, and offers the latest in banking technology that clients have come to expect. Its mission is to grow and prosper, building long-term customer connections based on top-quality service, high ethical standards, and core-funded, safe and sound assets.
To that end, MCB bases its operations and decisions on the fundamental principles defined by its eight core values: Integrity, Excellence, Leadership, Communication, Reality, Accountability, Teamwork, and Consideration.
MCB believes that these values provide the appropriate framework to structure an organization that will meet the service needs of its customers, the performance requirements of its shareholders, and the regulatory standards of its authorities.
At the end of April 2017, MCB had $663.9 million in total assets and $568.1 million in total deposits. MCB currently employs approximately 75 individuals at five branches and one operations center. For more information, visit us at www.mcb.com or check your account any time at 1-866-MCB-1910. MCB is an equal opportunity employer.