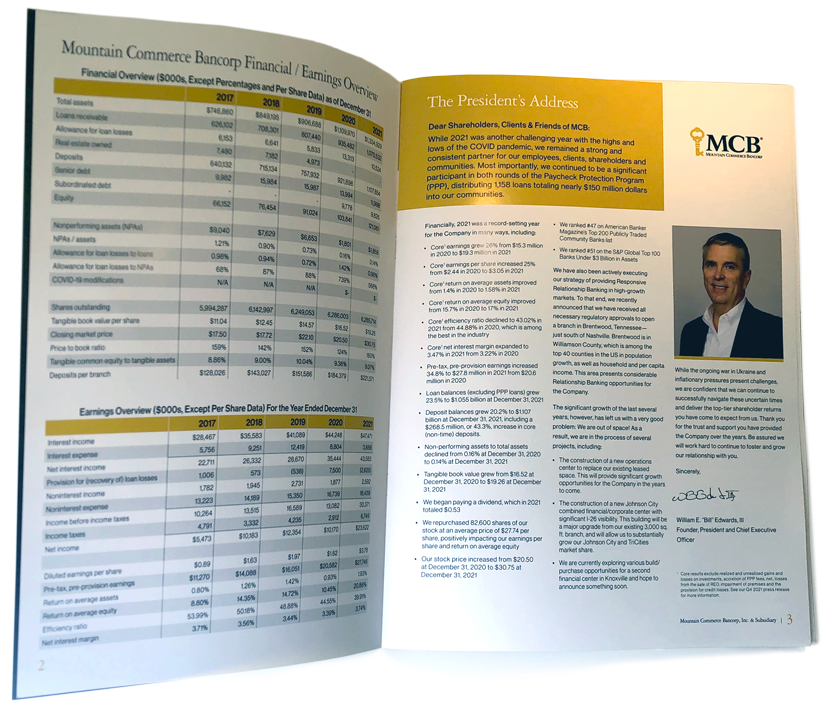 Download the 2022 Annual Report PDF here
Click the image below to view full page version of the annual report
2022 Annual Report Released
Dear Shareholders, Clients & Friends of MCB:
2022 was another challenging year for the banking industry as the Federal Reserve battled persistently high levels of inflation with a 425 bp rise in short-term interest rates.  Although this historic increase in interest rates presented many challenges for both the value of our assets as well as our funding costs, we remain a strong and consistent partner for our clients, shareholders, employees, and communities.
Selected financial highlights from 2022 included the following:
Core1 earnings grew 13% from $19.3 million in 2021 to $21.8 million in 2022

Core1 diluted earnings per share increased 14% from $3.08 in 2021 to $3.50 in 2022

Core1 return on average assets remained strong at 1.48% in 2022

Core1 return on average equity improved from 17.00% in 2021 to 18.65% in 2022

Core1 efficiency ratio remained low at 44.48% in 2022

Core1 net interest margin expanded to 3.54% in 2022 from 3.47% in 2021

Loan balances grew 23.0% to $1.317 billion at December 31, 2022

Deposit balances grew 21.5% to $1.346 billion at December 31, 2022

Non-performing assets to total assets declined from 0.14% at December 31, 2021 to 0.08% at December 31, 2022

Net loan charge-offs for 2022 declined to $89 thousand from $164 thousand
in 2021

The allowance for loan losses to nonperforming loans stands at nearly 10x as of December 31, 2022

We increased our quarterly dividend to $0.16 per share and paid out over $3.8 million in dividends during 2022
2022 was also a year of significant physical expansion for the Bank as we continued to work on the following projects:
We opened our first financial center in middle Tennessee in the highly desirable Brentwood market on June 30, 2022.  This market has already grown to over $140 million in loans and $71 million in deposits as of December 31, 2022 as a result of the addition of several top performing relationship managers.

We purchased a financial center in Knoxville in the Cedar Bluff/Farragut area.  This 37,000 sf building will replace approximately 9,000 sf of leased space and provide much needed additional capacity in lieu of constructing a new financial center. After completing some needed renovations, we expect this building to be operational in the third quarter of 2023. We anticipate that a portion of the building will be leased out to other tenants.

We completed a new 25,000 sf operations center in Gray, TN which will replace approximately 10,000 sf of leased space.  This will accommodate additional growth for the Company in the years to come.

We started construction on a new 23,000 sf Johnson City combined financial/corporate center with significant I-26 visibility. This building will be a major upgrade from our existing 3,000 sq. ft. branch and current leased corporate office space allowing us to substantially grow our Johnson City and Tri-Cities market share.
While the ongoing war in Ukraine, inflationary and funding pressures, and a looming possible recession present concerns, we are confident we can continue to successfully navigate these uncertain times and deliver the shareholder returns you have come to expect from us.  Thank you for the trust, patience and support you have provided the Company over the years. 
Sincerely,

William E. "Bill" Edwards, III
Founder, President and Chief Executive Officer
1 Core results (which are non-GAAP financial measures) reflect adjustments for realized and unrealized investment gains and losses, PPP fee accretion (net of the amortization of PPP deferred loan costs and one-time PPP bonuses), gains and losses from the sale of REO, the provision for (recovery of) loan losses, the provision for (recovery of) unfunded loan commitments, and the impact of a fraudulent wire loss incurred in the second quarter of 2022. See our Q4 2022 press release for more information.