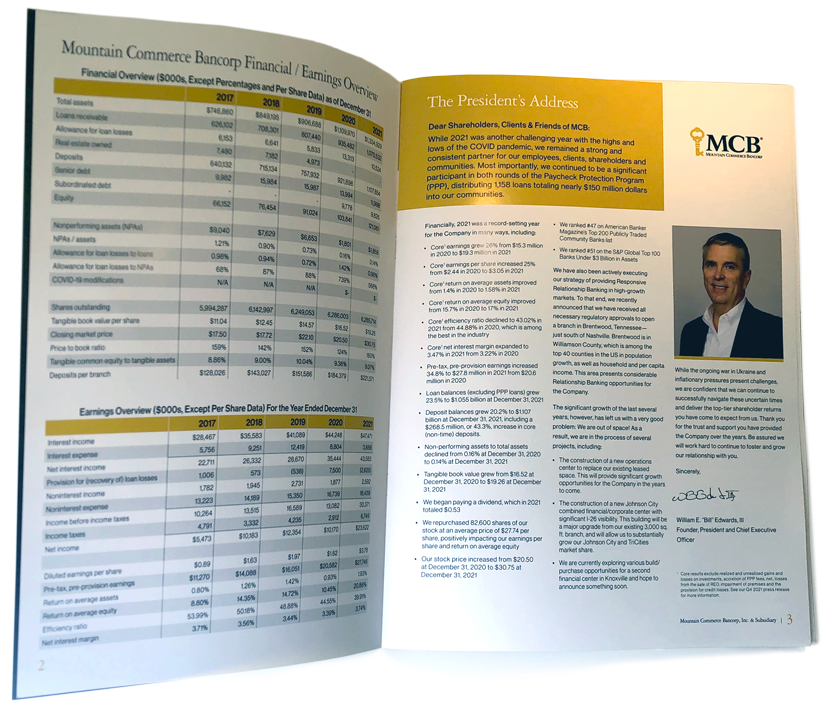 Download the 2021 Annual Report PDF here
Click the image below to view full page version of the annual report
2021 Annual Report Released
Dear Shareholders, Clients & Friends of MCB:
While 2021 was another challenging year with the highs and lows of the COVID pandemic, we remained a strong and consistent partner for our employees, clients, shareholders and communities. Most importantly, we continued to be a significant participant in both rounds of the Paycheck Protection Program (PPP), distributing 1,158 loans totaling nearly $150 million dollars into our communities.
Financially, 2021 was a record-setting year for the Company in many ways, including:
Core1 earnings grew 26% from $15.3 million in 2020 to $19.3 million in 2021

Core1 earnings per share increased 25% from $2.44 in 2020 to $3.05 in 2021

Core1 return on average assets improved from 1.4% in 2020 to 1.58% in 2021

Core1 return on average equity improved from 15.7% in 2020 to 17% in 2021

Core1 efficiency ratio declined to 43.02% in 2021 from 44.88% in 2020, which is among the best in the industry

Core1 net interest margin expanded to 3.47% in 2021 from 3.22% in 2020

Pre-tax, pre-provision earnings increased 34.8% to $27.8 million in 2021 from $20.6 million in 2020

Loan balances (excluding PPP loans) grew 23.5% to $1.055 billion at December 31, 2021

Deposit balances grew 20.2% to $1.107 billion at December 31, 2021, including a $268.5 million, or 43.3%, increase in core (non-time) deposits.

Non-performing assets to total assets declined from 0.16% at December 31, 2020 to 0.14% at December 31, 2021

Tangible book value grew from $16.52 at December 31, 2020 to $19.26 at December 31, 2021

We began paying a dividend, which in 2021 totaled $0.53

We repurchased 82,600 shares of our stock at an average price of $27.74 per share, positively impacting our earnings per share and return on average equity

Our stock price increased from $20.50 at December 31, 2020 to $30.75 at December 31, 2021

We ranked #47 on American Banker Magazine's Top 200 Publicly Traded Community Banks list

We ranked #51 on the S&P Global Top 100 Banks Under $3 Billion in Assets
We have also been actively executing our strategy of providing Responsive Relationship Banking in high-growth markets. To that end, we recently announced that we have received all necessary regulatory approvals to open a branch in Brentwood, Tennessee—just south of Nashville. Brentwood is in Williamson County, which is among the top 40 counties in the US in population growth, as well as household and per capita income. This area presents considerable Relationship Banking opportunities for
the Company.
The significant growth of the last several years, however, has left us with a very good problem: We are out of space! As a result, we are in the process of several projects, including:
The construction of a new operations center to replace our existing leased space. This will provide significant growth opportunities for the Company in the years to come.

The construction of a new Johnson City combined financial/corporate center with significant I-26 visibility. This building will be a major upgrade from our existing 3,000 sq. ft. branch, and will allow us to substantially grow our Johnson City and TriCities market share.

We are currently exploring various build/purchase opportunities for a second financial center in Knoxville and hope to announce something soon.
While the ongoing war in Ukraine and inflationary pressures present challenges, we are confident that we can continue to successfully navigate these uncertain times and deliver the top-tier shareholder returns you have come to expect from us. Thank you for the trust and support you have provided the Company over the years. Be assured we will work hard to continue to foster and grow our relationship with you.
Sincerely,

William E. "Bill" Edwards, III
Founder, President and Chief Executive Officer
1 Core results exclude realized and unrealized gains and losses on investments, accretion of PPP fees, net, losses from the sale of REO, impairment of premises and the provision for credit losses. See our Q4 2021 press release