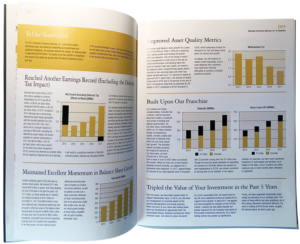 In 2017, Mountain Commerce Bancorp, Inc. (MCB) experienced another exceptional year. For many community banks, recent regulatory and competitive pressures have led to a reduction in profitability, or a contraction in size or service. Not so for MCB. We continue to flourish.
Last year's performance is testimony to the belief that a local bank plays a critical role in its community, and that customers want to be able to visit their bank and know they are not just a number. At MCB, we believe that banking is still a relationship-driven business. Those relationships—with customers, for certain, but also with employees, shareholders and vendors—are the cornerstone of all we accomplish.
Here are a few of MCB's more notable achievements from last year:
Excluding a deferred tax asset charge, increased earnings by 68 percent to an all-time high
Expanded the asset base by 21 percent, more than doubling our size during the past five years
Maintained excellent asset quality, finishing the year with the lowest level of nonperforming-assets-to-assets ratio in more than five years
Boosted our capital base to support ongoing growth, and optimized our capital structure
Enhanced liquidity for shareholders and increased the value of your investment in Mountain Commerce common stock, the share price of which has tripled during the past three years
Expanded our presence in each of our markets, invested in our team members through training, and announced several key personnel hires
In the following pages are the details about each of these items, and so much more.
For their contributions to such an impressive performance, I want to extend a special note of thanks to all our Mountain Commerce Bank team members. And to the board of directors, please accept my heartfelt gratitude for your support and wisdom. Because of your contributions, we completed 2017 well positioned to maintain
our success and embark boldly on another exciting year.
You can download our annual report here.
Sincerely,


William E. Edwards III
President and Chief Executive Officer
You may download a PDF of the annual report here: MCB Bancorp, Inc. 2017 Annual Report